Benchmarking Service
CMT users can request a customized benchmarking report to quantitatively gauge how their results rank against those of peer organizations.

Why use the ICCS Benchmarking Service? #
Decision making, both strategic and tactical, must be based on realistic goals and a well researched foundation. The ICCS Benchmarking Service has a unique role to play in this as it offers organizations a chance not just to see how they are performing against the background of their peers but also to examine how their respective service areas are rated by citizens. Because of multiple factors determining each service experience, it would be unreasonable to expect that, for instance, regulatory services would be ranked similarly to libraries.
Comparing the two would be misleading and providing little value. This is why the ICCS enables organizations to benchmark their results against those of other organizations by using criteria that take into consideration such elements as sector, level of government, client type, scope, activity, and area of service. The resulting apples-to-apples comparisons allow agencies to identify very clearly those areas where improvement is needed and attainable.
The service offered by the ICCS continues to be of key importance to many service managers seeking assistance in formulating strategic objectives and tracking their organizations' performance. Its benefits include:
Unique service resulting from the extensive database containing survey data from units coming from all levels of government and a wide array of service areas.
Competitive advantage rooted in the research-supported methodology behind the CMT.
Dedication to providing high quality of service is coupled with deep commitment to responding to CMT user needs and ensuring that the instrument is kept up-to-date.
Constant progress towards making increasingly sophisticated analysis and support services available to its current and future clients.
Facilitation of shared learning and bringing together organizations with similar interests to promote the sharing of knowledge and experiences.
The following charts provide an overview of the size and scope of the benchmarking database.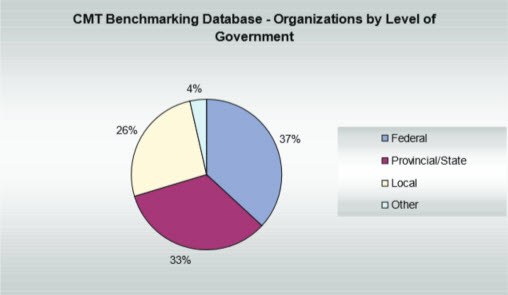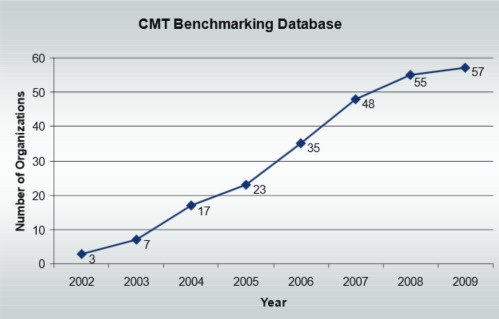 The ICCS Benchmarking Report #
Within the report, ICCS benchmarks the organization's results against up to three different benchmarking groups, the criteria of which are discussed in between the ICCS and the CMT user. Canadian public sector organizations can compare themselves against similar jurisdictions, organizations with a similar area of service or client group, or a similar scope of work (for example, single-window service organizations).

The ICCS Benchmarking report includes both summary charts and detailed benchmarking data. It also includes identification of priorities for service improvements. For more information on the contents of the benchmarking report, including sample charts, please see the CMT Benchmarking Report.
Requesting a Benchmarking Report #
For more information on the CMT Benchmarking report, or to request a report, please contact the ICCS.